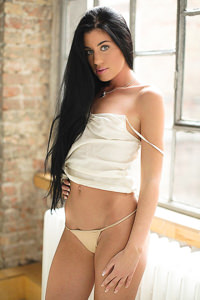 April Blue
Updated : 05-18-2013

|

Times Viewed : 128046

|
Alternate Names : Alisa Gubina, April B.
home : Hungarian
Hair Color : Black
Height : 167 cm
April Blue's Biography :
A recent newcomer to the industry April Blue has appeared in some great galleries by now showing her hot body all nude on the set. The cute babe who loves to get into the best stripping galleries on the set April Blue is a gorgeous beauty who loves to be naked on screen. Getting into wild stripping galleries April Blue can be seen exposing a beautiful body all naked on screen. Cute stripper with hot looks April Blue can be seen in some nice adult galleries giving wild previews of her body.